Manuals, Forms and Resources
Manuals
Appeals
Claims
Medical Management Documents
NOTE: All Pregnancy Notifications must be submitted via the GAMMIS portal.
Please submit notifications using the standardized Pregnancy form located on GAMMIS Georgia Medicaid Management Information System (GAMMIS)
Forms
Member Services
Continuity of Care Program
Important Notices
Other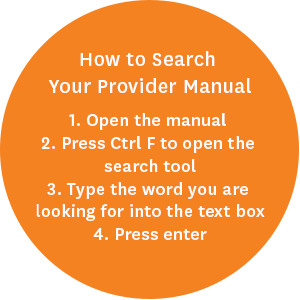 How to Search Your Handbooks and Directories
Open the handbook.
Press Ctrl F to open the search tool.
Type the word you are looking for into the text box.
Press enter.